The city above the city: hermann kamte & associates' smart wooden tower in lagos, nigeria
as part of the city above the city competition (plan B), cameroonian practice herman kamte & associates unveil a striking wooden tower in the heart of ikory, lagos – one of the most popular and wealthiest residential hubs of nigeria. this structure is designed to be the only one of its kind in this country, driven by smart and sustainable architecture.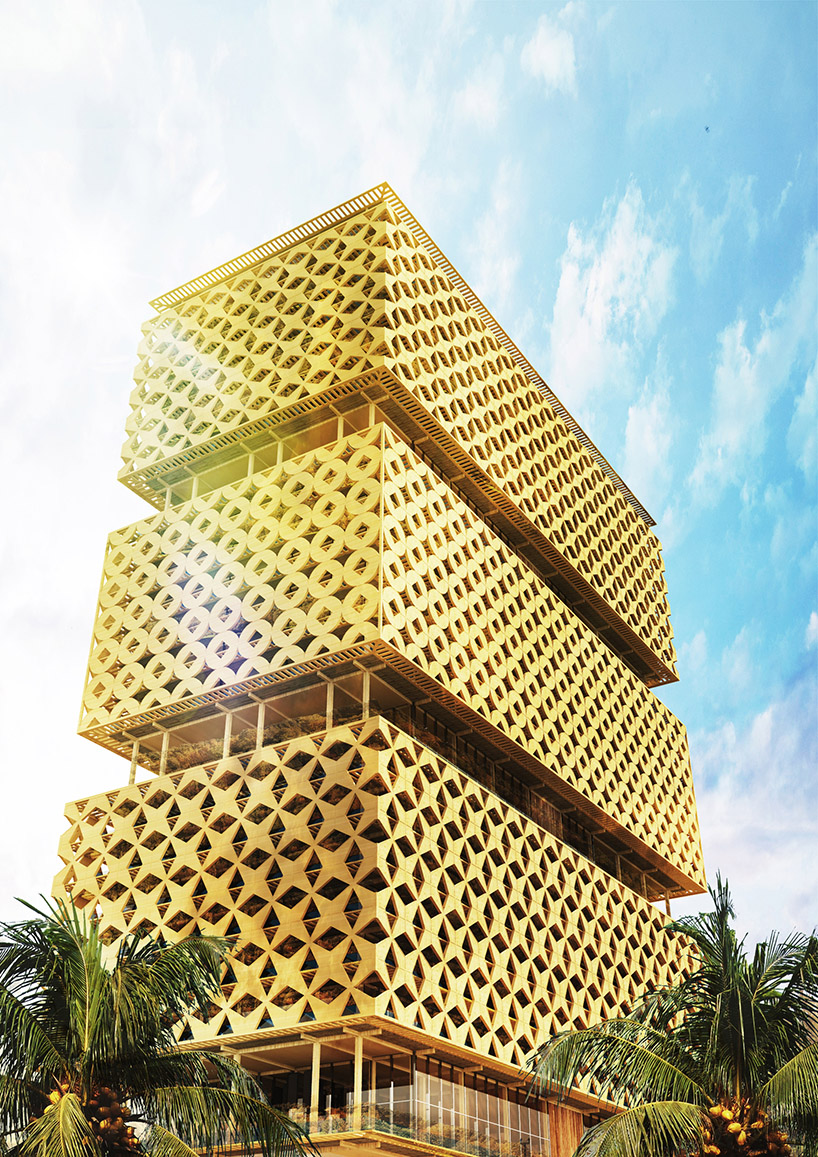 this experimental and smart tower is developed through natural, recyclable and local material
lagos is one of the most populated cities of africas – consisting of sixteen million inhabitants –and represents a big deal for architects, like HKA-hermann kamte & associates. therefore this tower would rise above the town, stretching to cross the limit of local wooden construction. this proposed landmark is composed of mixed residential spaces, built on the roof of abebe court which is a housing estate.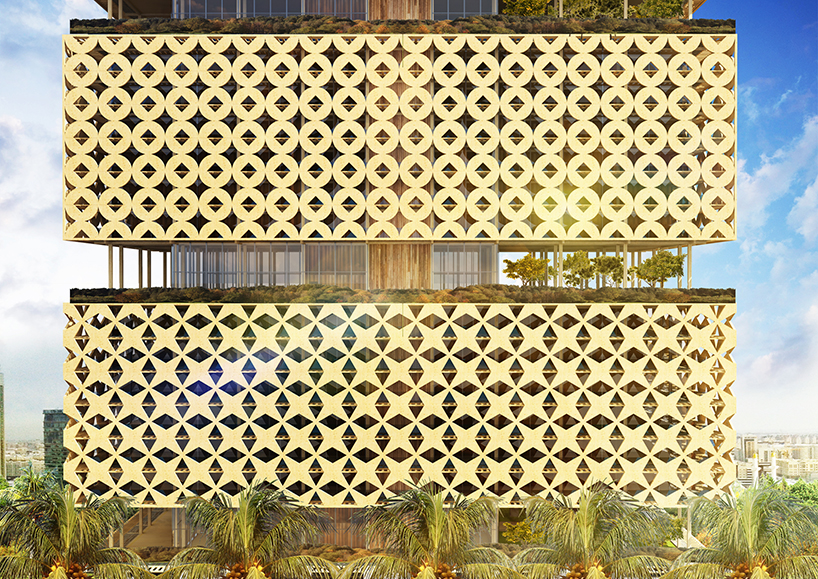 lagos's tower rises above the town, searching to cross the limit of wooden construction
located on the highbrow bourdillon road with picturesque vegetation, the project aims at transforming an existing old building trough experimention. indeed, this structure focuses on open area with an envelope that highlights the yoruba culture with their massive presence in the heart of lagos. the building is divided into four parts, with apartments designed around a central core. the existing and proposed structures are separated by sky gardens and amenities — with a rooftop that hosts 360° restaurants and lush greenery. the sky garden, also contributing to social interactions, gives a new natural footprint face to the historic centre dominated by ceramic, concrete and asphalt.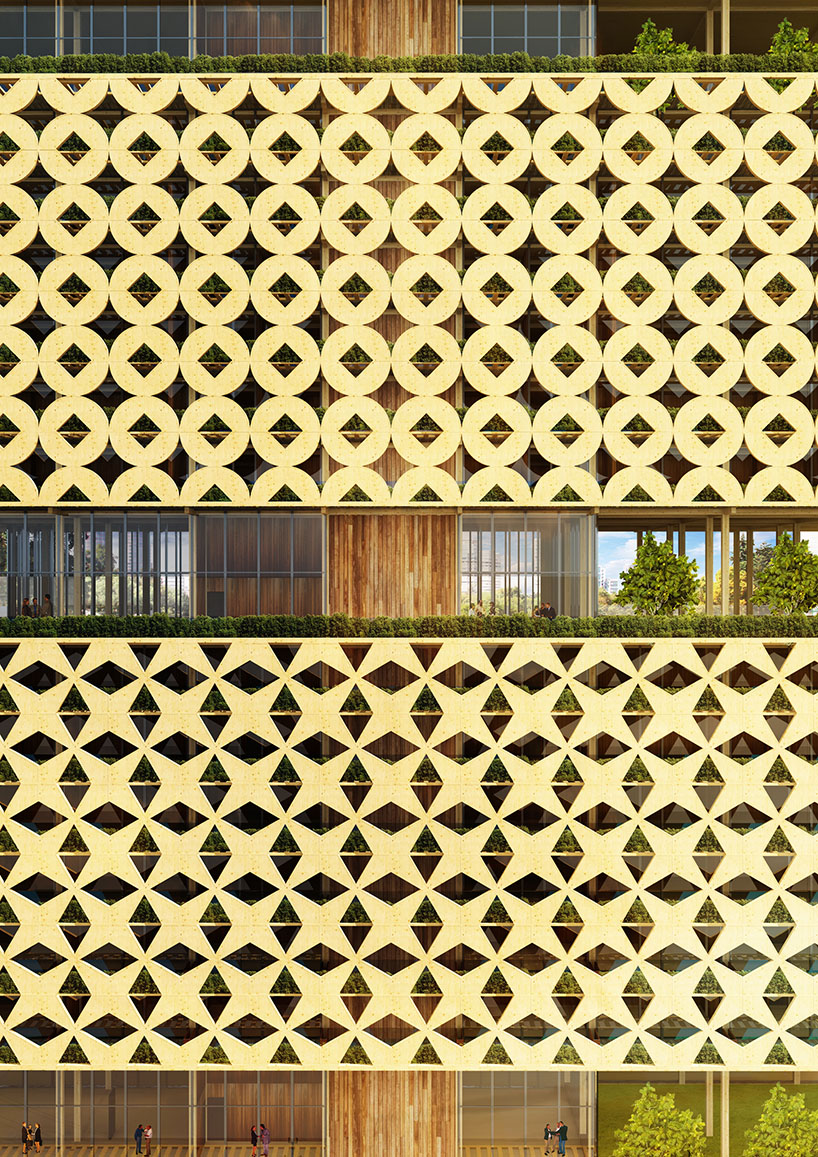 the exterior skin reveals bold patterns that reflect on the local yoruba culture
even more, the building is oriented in such a way to maximize daylight and natural ventilation. the wooden envelope provides shading from the heat of direct sunlight, while plants belt around each floor contribute to fresh air flow. this effect provides a constant micro-climate to the living space while providing visual comfort and aesthetic. finally, the entire landmark would be built using the resistance of LVL wooden system which is used as both load-bearing and non-load bearing support.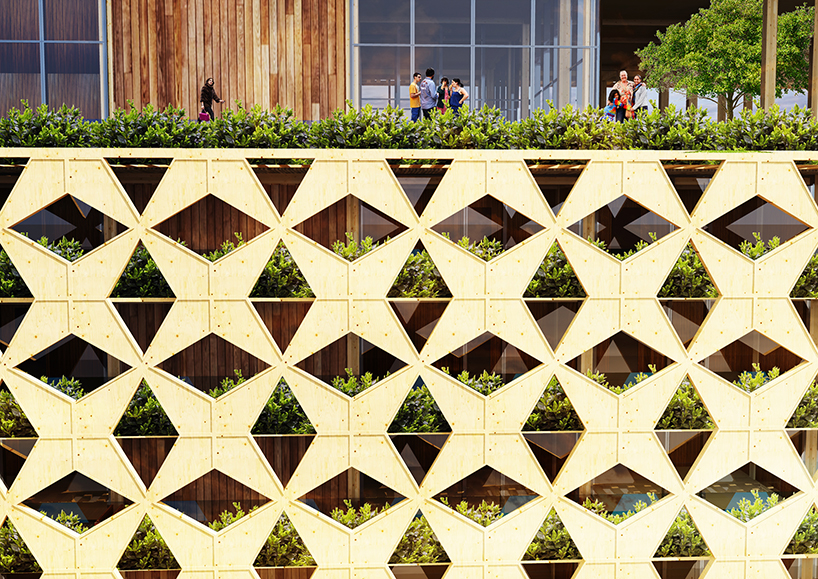 plants belt around each floor contribute to creating fresh air flow and keepimg a constant micro-climate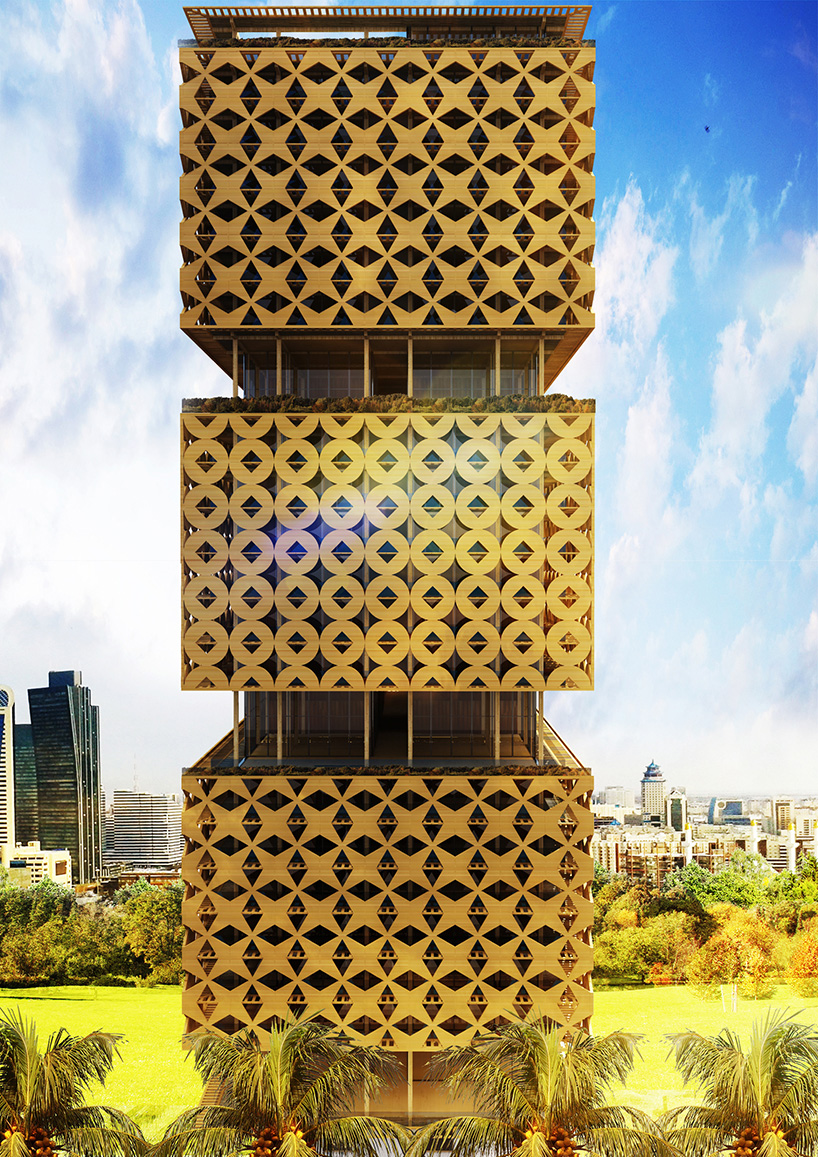 the existing and proposed structures are separated by sky gardens and amenities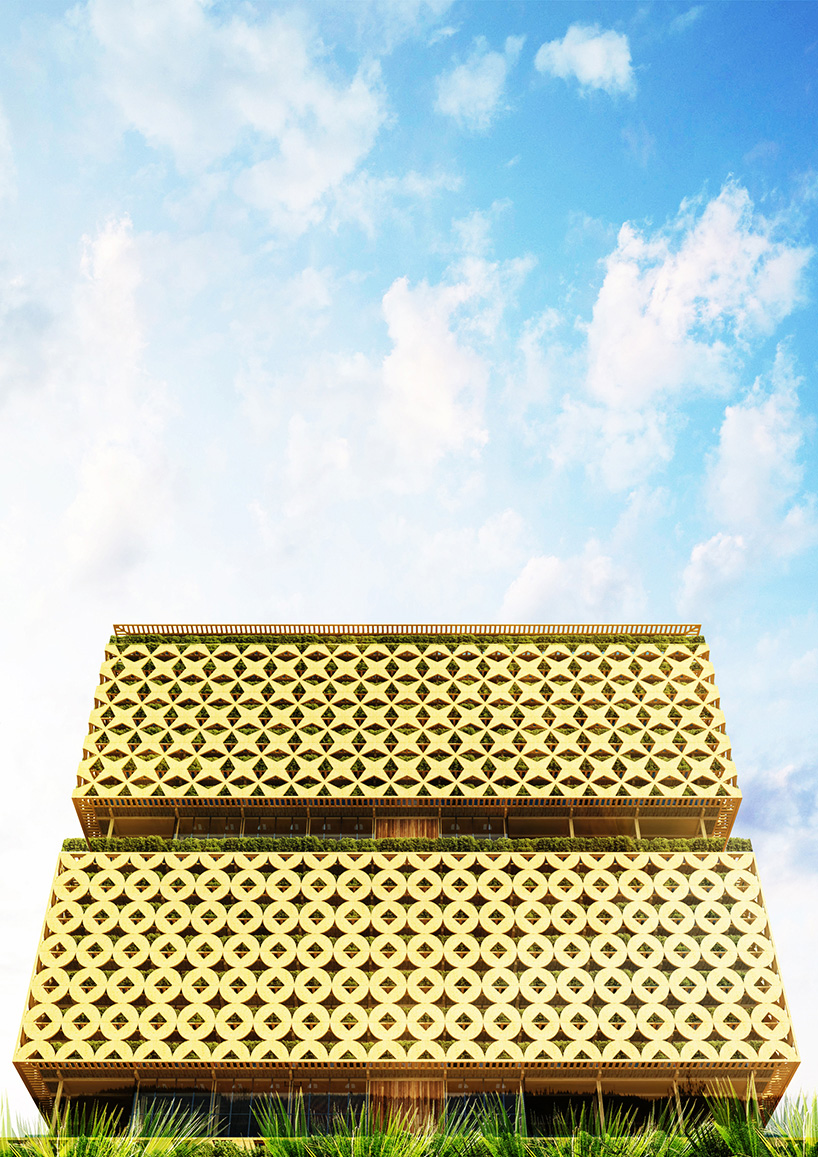 the entire structure is built by using the resistance of LVL wooden system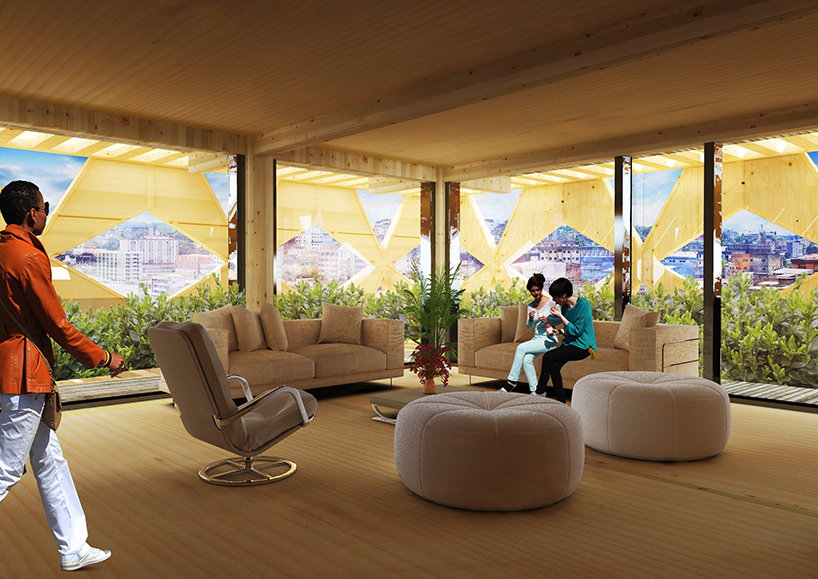 the interior offers mixed residential usages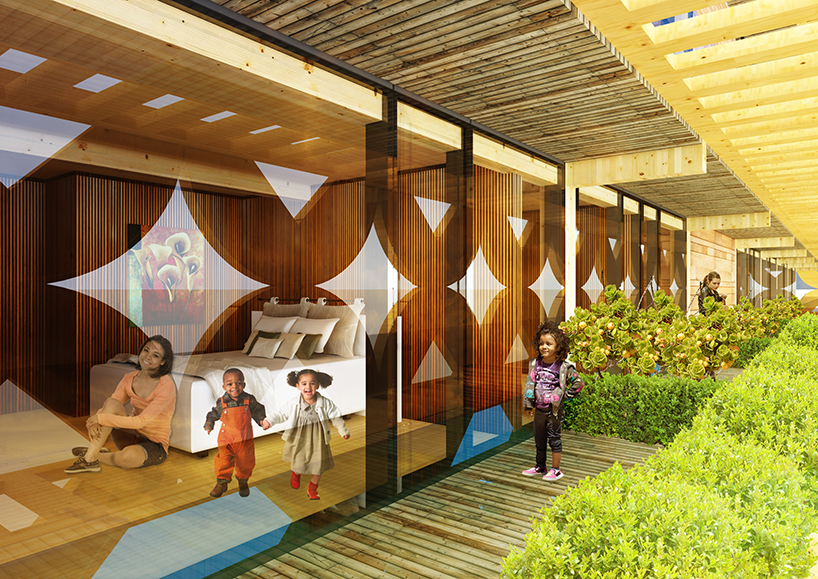 the building is oriented in such a way to maximize daylight and natural ventilation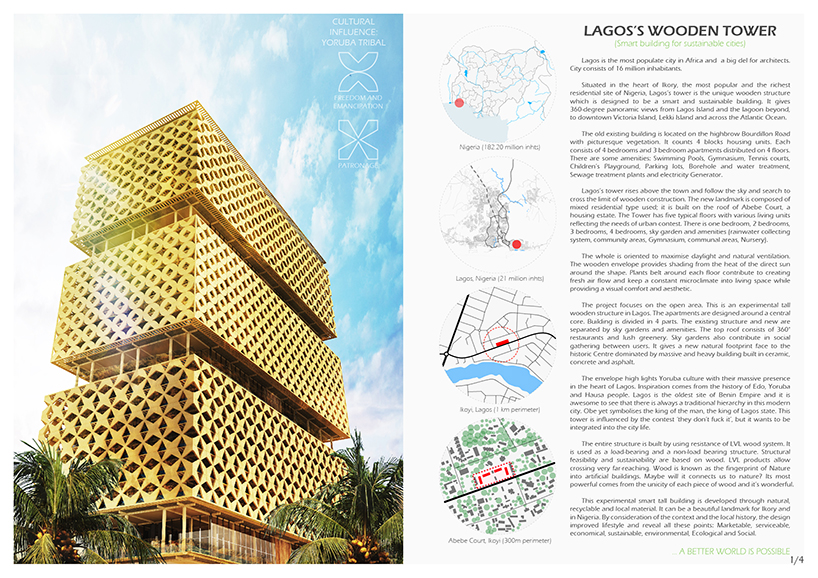 board competition, first panel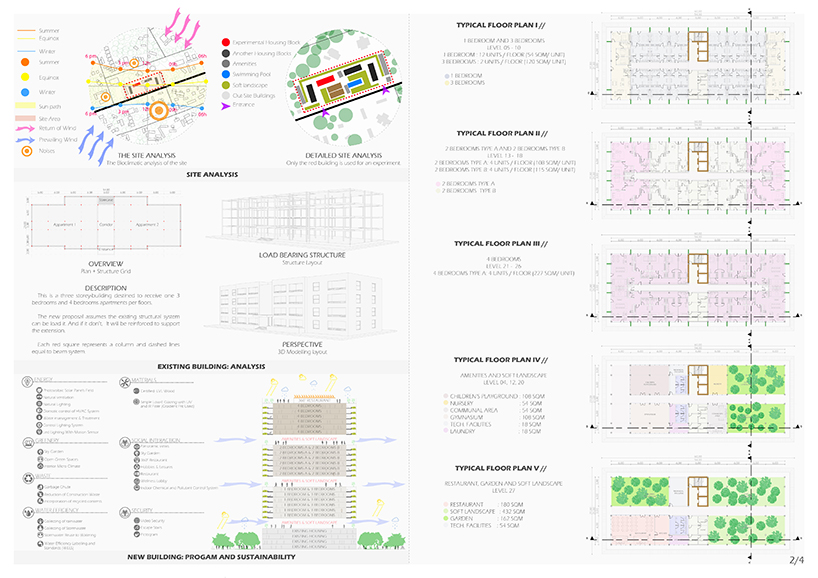 inventory and analysis of board 2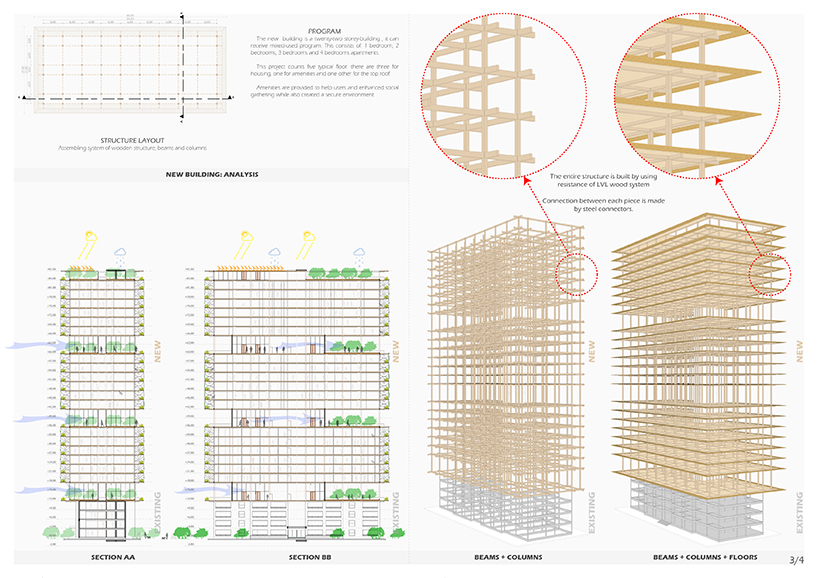 structural analysis and construction data of board 2